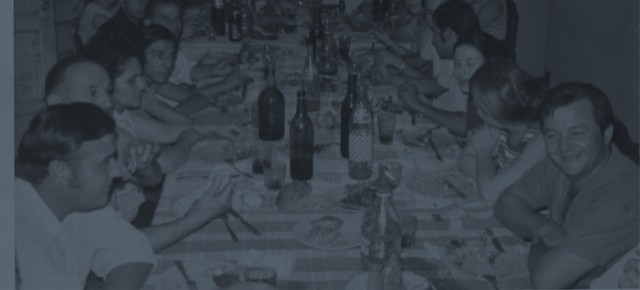 Inside Leña
Explore our killer space, designed for relaxing, socializing and celebrating good food and drink.
Posted
Building an unbelievable restaurant isn't just about the food and service. With Leña, we combine the warmth of your abuela's living room with the sartorial sensibilities of Argentinian First Lady Juliana Awada. Brought to life through the expertise of DesignAgency  the entire space is insta-worthy, from the elegant entrance to the show stopping bar and even the washroom wallpaper.
---
The Entrance & Main Floor Bar
Step inside from bustling Yonge St. and you'll immediately find yourself in the same open and airy space. Framed by floor-to-ceiling windows and original marble-paneled walls, the main floor is bursting with lively character.
The room's centrepiece is the unforgettable octagon bar, constructed around an original heritage pillar of softly backlit etched glass. Grab a spot at lunch and enjoy a sándwich or nibble on some bar bites throughout the afternoon and savour the depth of South American flavours.
Bar Lala
The hushed lower lounge is both intimate and sociable – an environment defined by eclectic patterns and a mix of rich leathers, black stone, brass, marble accents and furnishings. Muted lighting, antique books and ornate ceiling details add an element of historical influence.
Through the lounge, you'll find a wicked washroom corridor, adorned with playful exotic animal wallpaper (which just happened to be the same design that Chef Anthony Walsh has in his family home) and zebra-tiled floors. Our washrooms are sure to spark a selfie or two.
The Dining Room
As you walk up the stairs lined with original art deco railings, you'll gradually sense a shift in tone. The dining room ushers in a subtle air of approachable sophistication. A trio of brass-lined archways frame entry into the dining room, flanked by plush velvet hooded booths for both comfort and a sense of acoustic privacy.
Seating 86 guests without feeling cavernous or overwhelming, it is an intimate setting in which to take a breath and break bread.
---
Through the array of colours, moods and textures, Leña's magical interior truly heightens the senses. Whether you're looking to kick off your heels with a round of cocktails, or for a more refined, leisurely dinner, Leña's multiple storeys offer plenty of avenues for you to experience. Who knows – you might even feel compelled to take a detour.