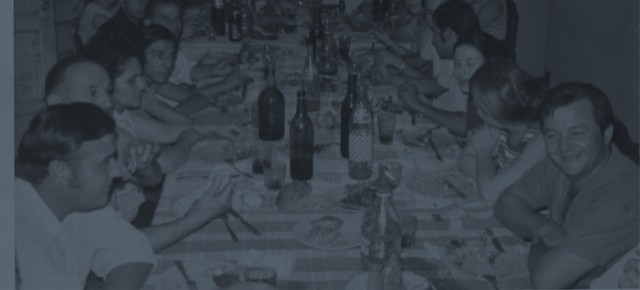 About Leña Restaurante
A Chef Anthony Walsh creation, Leña pays homage to his Argentinian mother-in-law, Elena, from whom he has drawn great culinary inspiration, and embodies what he experiences in her kitchen – a passionate food philosophy that brings people together.
Imaginative yet rooted in tradition, Leña's cuisine showcases the vibrant essence of South American cooking, with unique Spanish and Italian influences. It, along with our stylish design, warm character and lively tunes, promotes a "live to eat" ethos and fosters a convivial spirit at the table. Above all, Leña celebrates authentic, flavourful food and drink, enjoyed amongst old and new friends.
Executive Chef
Julie Marteleira
Born in Toronto and raised in Lisbon, Portugal, Julie Marteleira is driven by a passion to create exceptional cuisine with an international flare. Spending her youth in her family's restaurant kitchen, Chef Julie was strongly influenced by her mother's devotion to cooking and by her food's power to bring people together.
Chef Julie enrolled in George Brown's culinary arts program shortly after her family moved back to Toronto. While working towards a culinary management diploma, Chef Julie honed her skills at Flow Restaurant & Lounge in Yorkville under Chef Richard Andino; and was promoted to Sous Chef shortly after graduating.
In 2010, Chef Julie joined Oliver & Bonacini and quickly became an integral part of the team. Most recently, she has served as Oliver & Bonacini Restaurants' Executive Chef Tournant, guiding the culinary teams at Jump, Auberge du Pommier, and Luma.
Now, as Executive Chef of Leña, Chef Julie works alongside Chef Anthony Walsh to craft dishes that showcase vibrant Latin flavours and unite guests in intimate, authentic and colourful ways.
Corporate Executive Chef
Anthony Walsh
One of Canada's most highly revered and respected chefs, Anthony Walsh is the Corporate Executive Chef of Oliver & Bonacini Restaurants. In this role, Chef Anthony oversees the culinary direction of all properties in the diverse O&B portfolio, including the restaurants, the event spaces and the catering arm.
Prior to his appointment to O&B's Corporate Executive Chef, Chef Anthony served as Executive Chef for the iconic Canadian restaurant Canoe. There, his leadership, unrivaled culinary craftsmanship and visionary sense for haute Canadian cuisine played a vital role in the restaurant's meteoric ascent on the country's fine dining scene.
Over the course of his career, Chef Anthony has won critical acclaim by national and international media and has received numerous awards, including gold medals from Taste of Canada, Black Box, Salon Culinaire and the Ontario Hostelry Institute.
Deemed a 'culinary titan' by Chef Michael Bonacini, Chef Anthony continues to inspire and influence media, foodies, and the culinary world alike. At Leña, Chef Anthony is eager to celebrate the values that originally inspired his passionate food philosophy.